Treasured Heirlooms' Services
Treasured Heirlooms not only carries fabrics, patterns, needles, smocking plates and other notions, with easy and secure on-line ordering, we also offer these quality services.
Treasured Heirlooms will be happy to prepare your fabric for smocking. Pleating is available at $4.99 per garment.
Insets are only $7.50 per 12 rows
Insets are $6.50 per 10 rows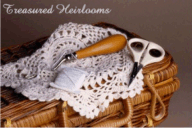 Shipping is available in the U.S. For international orders, outside of the continental United States, shipping charges will be adjusted accordingly.
Treasured Heirlooms
106 Mohican Trail, Wilmington, NC 28409
Telephone: 910-799-7636
Email
*Please note that all insets are pleated with Spechler-Vogel's 65/35% poly-cotton broadcloth. Recently all broadcloth from Spechler-Vogel has been changed from 44/45" widths to 59/60" widths and because of this change, it has instituted a price increase.